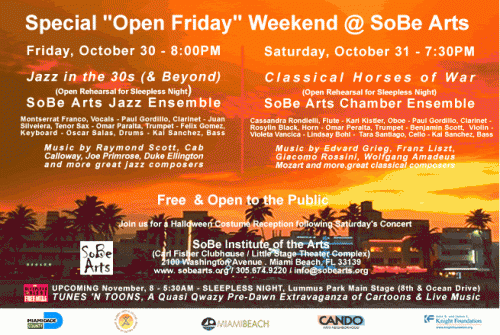 SPECIAL OPEN FRIDAY WEEKEND @ SOBE ARTS
A "Double Feature" Concert with Halloween Costume Reception
Friday, October 30 at 8:00PM & Saturday, October 31 at 7:30PM
Enjoy a two-night special sneak preview (open rehearsals) of music from our Sleepless Night production (see below).
First up on Friday, October 30 at 8:00PM is JAZZ IN THE 30s (& BEYOND). SoBe Arts Jazz Ensemble, featuring Montserrat Franco, vocals, Oscar Salas, drummer and Felix Gomez, keyboards. Enjoy the music of Raymond Scott, Cab Calloway, Joe Primrose, Duke Ellington and many more great jazz composers of this very creative era.
Next up on Saturday, October 31 at 7:30 is CLASSICAL HORSES OF WAR. SoBe Arts Chamber Ensemble, featuring several "warhorses" of classical music most often used in cartoons and in many symphony subscription concerts over the years. Only this time played in chamber ensemble versions in the intimate and beautiful Carl Fisher Clubhouse Hear the music you never thought you would hear like this, Edvard Grieg's Morning Music from Peer Gynt; Franz Liszt's Hungarian Rhapsody No. 2; Gioachino Rossini's William Tell Overture and more.