Coming to Shine Saturday October 4th is world renowned DJ Nick Warren who is celebrating his GU35 album release. Nick has just finished his summer European tour and launches his North American fall tour in New York City and Miami Beach. His first appearance since his sold out WMC 08 show, we look forward to all returning for an amazing night of music.
Appearing with Nick Warren, is DJ Noel Sanger. Noel has toured the world after beginning in Orlando during the late 90's. His return after several years to Miami celebrated playing alongside Warren and Shine's, Jon Cowan. The Shelborne continues their "Don't Drink and Drive" campaign offering a Shine Special Room rate for the weekend the club is open with free admission for all hotel guests. For reservations call 305 531-1271 (Shine Rate)
advance tickets
Doors 10pm-5am
free to Florida residents before Midnight
Ladies Two for One drink specials before 12:30
21 and Over
tables and bottles shine@shelborne.com
Shine @ Shelborne Beach Resort
1801 Collins Ave
Miami Beach
info line 305 341 1455
www.shinesouthbeach.com
www.myspace.com/shine
www.shelborne.com
www.djnickwarren.com
www.noelsanger.com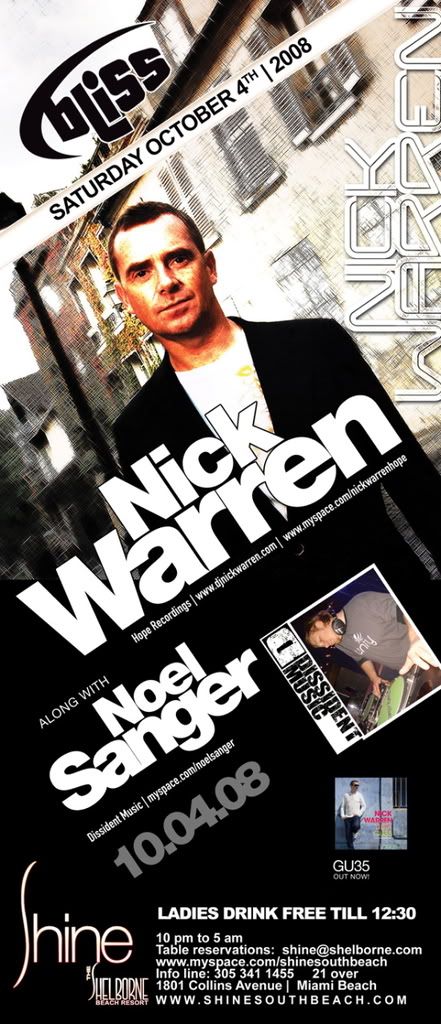 Thank you for using Soul Of Miami!